Survey about the new name of the park in Komárov
in the city disctrit Brno-south
The modification of the locality above the housing estate is the first implemented step in the planned revitalization of the almost 4 km long stream of Stará Ponávka. Ideologically, it is based on a revitalization study from 2010, during the processing of individual stages of project documentation, the original design was modified to its current form. On the site of the former temporary car park and paddock for dogs with a minimum of trees, a park area of ​​approximately 1.4 ha was created, the dominant and determining element of which is the Stará Ponávka riverbed. The previously regulated stream was modified into a nature closer to nature, so the surface can be reached directly from the shore in a loose part of the stream, in the narrower part of the riverbed there are residential stairs and a pier. The river is bridged by three footbridges, which also connect the nearby housing estate with the revitalized Svatopetrská commercial area. The treatment of both surfaces was unified with the materials used and landscaping. Along the stream, a backbone road with a concrete surface is built, the road network is complemented by threshing paths in combination with stone paving. Commonly used furniture (benches, baskets) is made special by wooden deck chairs placed around the perimeter of the central meadow. The existing trees along the stream were preserved as much as possible, which were supplemented by the planting of trees and shrubs in the area and a large number of herbs, especially on the banks of the stream. The central space consists of a residential lawn, around the perimeter merging into meadow vegetation.
This is the second round of voting. From the first round of voting, where people could send their tips, the Expert Jury selected the five most relevant proposals. You will find a more detailed description of the entire survey HERE.
The Brno city council decided about to carry out the poll.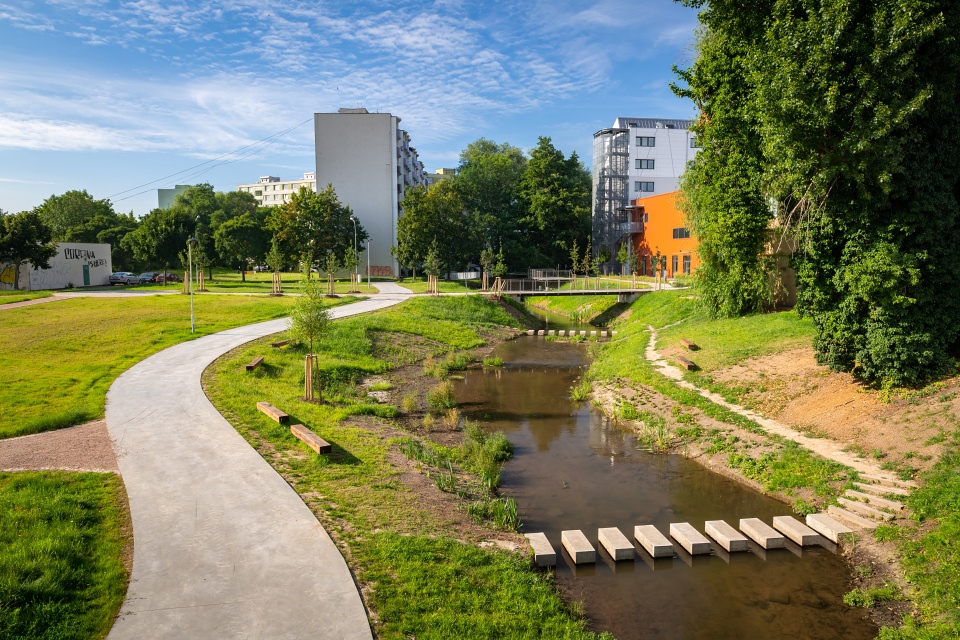 You could choose from the following options:
park Na Luhu
park Veverka
Mariacela
U Náhonu
U Ledňáčka
The vote ends on 12 November2021
A total of 601 people voted. By far the most votes, 270, were given to the 'Mariacela' variant.
Option 'Na Luhu' ended with 111 votes, the option 'U Ledňáčka' had 81 votes, the option 'U Náhonu' 77 votes and the option 'park Veverka' had 62 votes.