How to buy public transport ticket "Child up to 3 years + 1 accompany"
This ticket is primarily linked to the child, so it is necessary to create an account for the child and have it verified. It is necessary to put a ticket carrier in the account and it is then possible (for an already verified account with the discount category "child up to 3 years" derived automatically from the age) to create the free public transport ticket.
Eshop allows you to create and manage dependent accounts. This is the most convenient way to create and manage an account for small children, although of course you can also create for a child a standard account with a full login (email) and password. For a dependent account, it is easy to control it and switch to it directly from the account that created it. As soon as the children grow up, it is possible to end the account dependency via the Customer Service Center, set their own login details and thus make these accounts independent.
A) Creating a dependent account
After logging in to your Brno id account, select the "Dependent accounts" tab and click on the green "New dependent account" button:

Now a field will appear before you, which will allow you to set an alias for this account. Set an account alias and click on the green "create" button: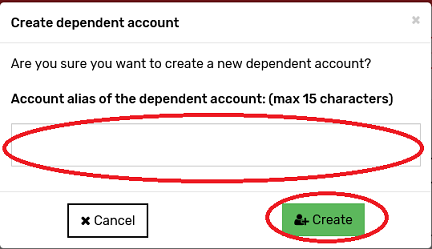 You now have a dependent account created. This account has a generated virtual email address, all information (confirmations, alerts, etc.) emails are automatically forwarded to the email address of the main account. Use the blue arrow icon to move to a dependent account.

You can always go back from a dependent account to your own account. At the top bar next to the listed name and email of the dependent account is a small blue arrow icon that you need to use.

You can use the above steps to create multiple dependent accounts.
B) Personal data of the created dependent account and their verification
After the creation of a dependent account in order to purchase a non-transferable ticket "Child up to 3 years + 1 accompany", it is necessary to fill in the child's personal data, ie name + surname + date of birth + permanent residence. For children under 3 years of age, it is not necessary (but you can) to upload a photo (a pictogram will be added instead). Subsequently, it is necessary to have this personal data verified, either by requesting online verification (in the "My Account" section using the "Sned image(s) for online verification" button), or in person at DPMB sales points. The basis that you document or upload is (instead of the usual identity card) in this case the birth certificate of the child.
C) Buying of public transport ticket "Child up to 3 years + 1 accompany"
After the child's account is verified, it will automatically (if under 3 years of age) receive the discount category "child under 3 years of age" as part of the verification and the ticket can will be accessible. In the "Public transport" module, in the "Buy an IDS JMK ticket" section, select "Non-transferable tickets". First, you need to add a ticket carrier to your account (contactless payment card in physical or virtual form). Then you choose the category "Child under 3 years of age", you will see a choice of public transport card for zones 100 + 101 for 0 CZK (or a whole IDS JMK transport annual card for 2400 CZK). Select an expiration date. In the case of a ticket for CZK 0, you will see a "Create a free ticket" button. Using it, the ticket is created immediately, its "validity until" is automatically set up to 3 years of the child and the ticket can be used immediately.