How to deal with a virtualized bank card and have it as a carrier
What is the problem?
The problem with virtual bank cards (whether it's Google Pay, Apple Pay or another similar application, a smart watch with payment function, or anything else to pay) is usually that you don't know the actual number of this card and its expiration date. For example, if you add your physical bank card to Google Pay, a different card number and expiration date will be generated for your virtualized bank card each time (even if the app doesn't tell you this and show credentials of your physical card). In addition, the virtual card number usually changes after any reinstallation, sometimes even after updating the application. In order to be able to add such a virtualized bank card from home (via a secure tokenization gateway, to which the Brno iD or IDS JMK e-shop will send you when adding a new carrier) and use it for example as a public transport carrier, you need to know both values. You can either visit one of the DPMB or KORDIS JMK sales and verification places and have it added by touching a physical tokenization bank reader with your device. Or you can use the application described below to find out both required values.
What does the application need and how does it work?
You will need a device (phone) with Android and an NFC reader to read your virtual bank card. Once installed and turned on, the application can read and display the card number and expiration date. The application only needs access to NFC reader and nothing else, it works completely offline. The application does not store any data or pass it anywhere.
Where can I find the application?
The application can be downloaded from the Brno iD server HERE (size 2,5 MB)
How is the application used?
You turn on the application. If the device does not have an NFC reader at all, the application will report it. If you have NFC turned off, the application will report it and offer a link to settings to turn it on. If NFC works, you need to bring your virtualized bank card in an active form (for example, Google Pay enabled) to the reader on your phone. NFC readers on telephones often have quite poor weak read signal performance compared to bank card readers, so you have to hit the place where the NFC reader is located with your device quite accurately (often about in the middle of the back of the phone). If the reading succeeds, you will see the required data displayed. You can then use them either to add a new carrier via the Brno iD or IDS JMK e-shop (in "My carriers" section). Or, if you used your bank card within the "Beep and go" system to purchase electronic public transport tickets in vehicles (and such a card has not been assigned to any user account until then), then a so-called auxiliary account has been set up for it and with the help of both values you can log into it (at the bottom of "Sign in" section).
What does the application look like?
In the first picture you see the application after the startup. On the second picture you see it after reading a virtual bank card.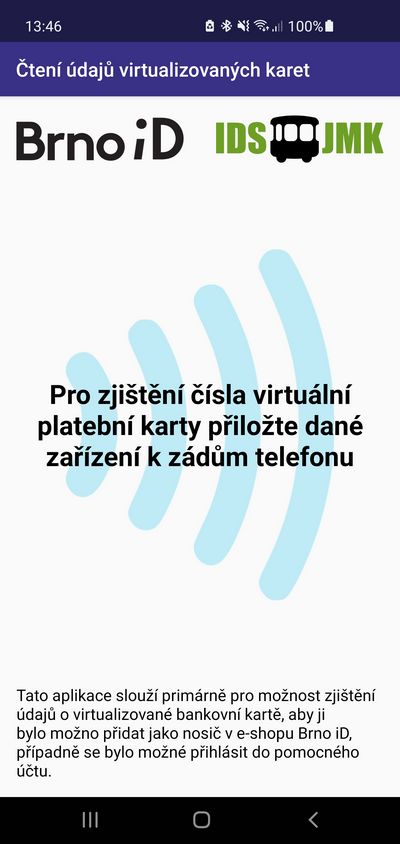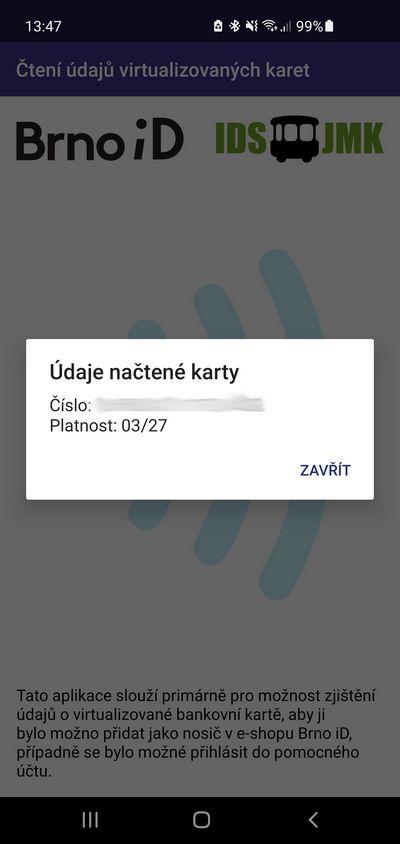 (The application was downloaded 54980x)